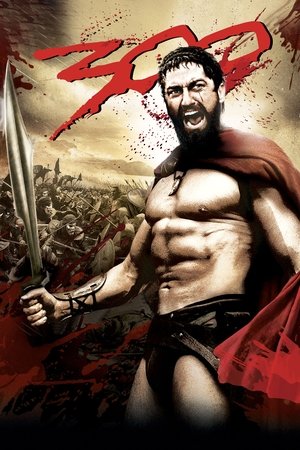 8.2
7.1
Valoraciones positivas:
384
Valoraciones negativas:
13
Adaptación del cómic de Frank Miller (autor del cómic 'Sin City') sobre la famosa batalla de las Termópilas (480 a.C.). El objetivo de Jerjes, emperador de Persia, era la conquista de Grecia, lo que desencadenó las Guerras Médicas. Dada la gravedad de la situación, el rey Leónidas de Esparta (Gerard Butler) y 300 espartanos se enfrentaron a un ejército persa que era inmensamente superior.
Logueate para poder valorar esta película
Disponible en las siguientes plataformas
Dirección y Producción

William Hoy
Editor

Frank Miller
Executive Producer

Frank Miller
Writer

Frank Miller
Graphic Novel
Michael Wilkinson
Costume Design
Colin Strause
Visual Effects Supervisor
Greg Strause
Visual Effects Supervisor
Paul Hotte
Set Decoration
Carrie Hilton
Casting
Ben Waisbren
Executive Producer
Isabelle Guay
Supervising Art Director
James D. Bissell
Production Design
Gianni Nunnari
Producer

David Rapaport
Additional Casting
Zack Snyder
Screenplay
Zack Snyder
Director
Tyler Bates
Original Music Composer
Darrell Hall
Music Editor
Scott Hecker
Supervising Sound Editor

Nina Fallon
Visual Effects Producer
Christophe Giraud
Makeup Artist
Larry Fong
Director of Photography

Kurt Johnstad
Screenplay
Kristy Carlson
Casting
Andrea Kenyon
Casting
Tamara Notcutt
Casting Associate
Nicolas Lepage
Art Direction
Jeffrey Silver
Producer
Gilles Fortier
Rigging Gaffer
Ismat Zaidi
Visual Effects Producer

David Leitch
Stunts
Thomas Tull
Executive Producer
William Fay
Executive Producer

Caitlin McKenna-Wilkinson
ADR Voice Casting
Lindsey Hayes Kroeger
Additional Casting
Scott Mednick
Executive Producer
Stefan Sonnenfeld
Colorist
Bernie Goldmann
Producer
Deborah Snyder
Executive Producer
Mirosław Baszak
Second Unit Director of Photography
Stéphane Lefebvre
Stunt Coordinator
François Daignault
Camera Operator
Eric A. Norris
Supervising Sound Effects Editor
Derek Vanderhorst
Sound Designer
Derek Vanderhorst
Sound Effects Editor
Thierry Delattre
Visual Effects Supervisor
Anouk Deveault-Moreau
Visual Effects Coordinator
Jeremy Hunt
Visual Effects Supervisor
Daniel Leduc
Visual Effects Producer
Richard Martin
Visual Effects Supervisor
Martin Walters
First Assistant Director
Chris Watts
Visual Effects Supervisor
Craig J. Flores
Executive Producer
David Uloth
Techno Crane Operator
Nathalie Trépanier
Key Makeup Artist
Jean-Francois Morissette
3D Tracking Layout
Randi Wells
Casting Associate
Simonetta Mariano
Costume Illustrator

Brent Lambert
Set Designer
Tim Rigby
Stunts
Tim Rigby
Utility Stunts
Michael B. Gordon
Screenplay
Lynn Varley
Graphic Novel
Christine Bieselin Clark
Assistant Costume Designer
Azalia Snail
Costumer
Michelle Côté
Hairstylist
Philippe Lord
Set Decoration
Jean-Pierre Paquet
Art Direction
Scott Wheeler
Makeup Department Head
Lyse Pomerleau
Costume Supervisor
Frederick H. Stahly
Dialogue Editor
Chris Jenkins
Sound Re-Recording Mixer
Danielle Plantec
CG Supervisor
Collin Butrum
Transportation Coordinator
Michael J. Broomberg
Foley Artist
Vincent Gingras-Liberali
Set Designer
Maxime Ferland
Boom Operator
Julie Amyot
Dresser
Daniel Matthews
Transportation Coordinator
John Bober
Transportation Captain
Chad Malbon
Visual Effects Producer
Frédéric Amblard
Set Designer
Alex Touikan
Set Designer
Denis Hamel
Property Master
Lucie Fournier
Sculptor
Michael Meagher
Visual Effects Producer
Takashi Seida
Still Photographer
Gayle Busby
Visual Effects Producer
David Werntz
Sound Effects Editor
Ray McIntyre Jr.
Visual Effects Supervisor
Frank A. Montaño
Sound Re-Recording Mixer
Charlotte Raybourn
Art Department Coordinator
Helene Lamarre
Art Department Coordinator
Simon Chamberland
Property Master
Hiroshi Yada
Sculptor
Keith Christensen
Sculptor
Marc Chow
Sculptor
Martin Laneuville
Greensman
Miguel Rivera
Dialogue Editor
Stephen Gilbert
Special Effects Coordinator
Andy Fowler
Visual Effects Producer
Thomas Nittmann
Visual Effects Producer
Persis Reynolds
Visual Effects Producer
Mandy Tankenson
Visual Effects Producer
George McCarthy
Visual Effects Editor
Kirsty Millar
Visual Effects Supervisor
Edson Williams
Visual Effects Supervisor
Daniel Sauvé
Camera Operator
Daniel Sauvé
Steadicam Operator
John Lewin
Gaffer
Pierre Blondin
Location Manager
Kimi Webber
Script Supervisor
Nadine Thouin
Choreographer
Jerie McBride
Studio Teachers
Jennifer Anderson
Costume Assistant

John 'D.J.' Des Jardin
Visual Effects Supervisor
Erik Liles
Compositing Supervisor
Réjean Forget
Key Hair Stylist
Zack Davis
ADR Supervisor
Audrey L. Anzures
Hair Department Head
Marco Venditto
Rigging Gaffer
Des Carey
Digital Intermediate Producer
Missy Papageorge
Digital Intermediate Producer
Ryan Zuttermeister
Visual Effects Coordinator
Melissa Remenarich
First Assistant Editor
Chris Holmes
Compositing Supervisor
Jeff Rosen
ADR Editor
Jon Mete
Sound Effects Editor
Kyle Rochlin
Foley Mixer
Brad North
Sound Effects Editor
Cristin Pescosolido
Digital Effects Supervisor
Derek Wentworth
Digital Effects Supervisor
Jean-Jacques Dion
Hairstylist
Jocelyne Bellemare
Key Makeup Artist
Hugo Dominguez
Visual Effects
Stephen Coren
CG Supervisor
Michael Cozens
Lead Animator
Andrea Wertheim
Post Production Supervisor
Jake Morrison
Digital Effects Supervisor
Chris Wells
CG Supervisor
Martine Gagnon
Costume Assistant
Serge Lavigueur
Armory Coordinator
Mark Pappas
Foley Supervisor
Ryan Kuba
Visual Effects Coordinator
Tyler Foell
Digital Effects Supervisor
Julie Garceau
Video Assist Operator
Yoshiya Yamada
Modelling Supervisor
Robert B. Baylis
Key Grip
Shawn Sykora
Foley Editor
Rosalie Clermont-Bilodeau
Wardrobe Assistant
Martin Zwanzger
Compositing Artist
Meinert Hansen
Concept Artist
Julie Breton
Extras Casting
William R. Dalgleish
First Assistant Camera
Noel Donnellon
Epk Camera Operator
Marie-Maude Grenier
Costumer
Christian Chabot
Lighting Technician
Guy Pigeon
Set Designer
Yves Drapeau
First Assistant Camera
Mo Henry
Negative Cutter
Garson Yu
Title Designer
Catherine Lavoie
Assistant Makeup Artist
Yanick Wilisky
CG Supervisor
Alain Masse
Key Grip
Richard Boucher
Dolly Grip
Jean Courteau
Chief Lighting Technician
Gillian Chandler
Assistant Makeup Artist
Shawn Roberts
Casting Assistant
Dan Milligan
Concept Artist
Dean Gula
Visual Effects Coordinator
Tad Griffith
Stunts
Tad Griffith
Stunt Coordinator
Tad Griffith
Utility Stunts
Chadi Abo
Pre-Visualization Supervisor
Patrice Lapointe
Dolly Grip
Nathan D. Gunn
Assistant Editor
Marco Nero
Concept Artist
Catherine Gélinas
Dresser
Caroline Béliveau
Second Assistant Camera
Bret St. Clair
CG Supervisor
Jayne Herrmann
Visual Effects Coordinator
Todd Baillere
Post Production Consulting
Louis Frederic Denomme
Set Dresser
P. Whitney Gearin
Visual Effects Coordinator
Richard Cote
Visual Effects Coordinator
Bill Holley
Colorist
Richard Bennett
Storyboard Artist
Larysa Chernienko
Makeup Artist
Nerys Lincoln
3D Artist
Danielle Rubin
Visual Effects Coordinator
Lisa Marra
Visual Effects Coordinator
Julia Reinhard
Compositing Artist
Marco Lavallée
Set Dresser
Sergio Ayrosa
Compositing Artist
Andreas Nehls
3D Modeller
Dylan Carter
Online Editor
Mathieu Price
Grip
Sylvain Dupuis
Second Assistant "A" Camera
Eric Aubin
Second Assistant "B" Camera
Stephane Boisvert
Generator Operator
David Dinel
Best Boy Grip
Alain Bisson Doyal
Grip
Stephen Wells
Dolly Grip
Alejandro Valdes-Rochin
Visual Effects Assistant Editor
Jeff Scott
Best Boy Electrician
Joshua Cordes
Animation Supervisor
Grant Freckelton
Visual Effects Art Director
Karl Rogovin
Visual Effects Coordinator
Pierre Beaulieu
Lighting Technician
Jacques Langlois
Pyrotechnician
Henri Aubertin
Key Dresser
Melina Di Cristo
Assistant Makeup Artist
Annick Legout
Assistant Makeup Artist
David Scott
Makeup Artist
Adam Forman
Tattooist
Christian Lemay
Assistant Camera
Richard Alger
Electrician
Robert Lapierre Jr.
Grip
Martine Vincent
Grip
Sandrin Olivier
Rigging Grip
Tereska Gesing
Dresser
Pascal Gauthier
Key Dresser
Yolanda Santosa
Title Designer
Caroline Lachance
Art Department Production Assistant
Mark Alan Yates
Storyboard Artist
Stephan Schweizer
Compositing Artist
Cesar Dacol Jr.
Modelling Supervisor
Chris Capell
Visual Effects Coordinator
Marie-Claude Aubry
Visual Effects Coordinator
Marie-Chantale Savard-Côté
Visual Effects Coordinator
Ana Marie Cruz
Visual Effects Coordinator
Elizabeth Ross
Assistant Editor
Éric Gaudry
Colorist
Reparto
Stephen McHattie
Loyalist

David Wenham
Dilios

Vincent Regan
Captain

Gerard Butler
King Leonidas
Lena Headey
Queen Gorgo

Dominic West
Theron

Michael Fassbender
Stelios

Rodrigo Santoro
Xerxes

Andrew Tiernan
Ephialtes

Andrew Pleavin
Daxos

Tom Wisdom
Astinos
Giovani Cimmino
Pleistarchos

Tyler Neitzel
Leonidas at 15 yrs

Michael Sinelnikoff
Elder councilman

James Bradford
Ephor #5

David Leitch
Spartan Warrior (uncredited)
Dylan Smith
Sentry #1

Darren Shahlavi
Persian (uncredited)

Peter Mensah
Messenger
Jean Michel Paré
Other Council Guard
Amélie Sorel
Slave Girl
Andrew Shaver
Free Greek-Potter
Alex Ivanovici
Ephor #2
Deke Richards
Spartan Soldier (uncredited)

Marc Trottier
Spartan Warrior (uncredited)
Patrick Sabongui
Persian General

Neil Napier
Spartan with Stick
Robert Maillet
Uber Immortal (Giant)

Arthur Holden
Partisan
Mercedes Leggett
Slave Girl
David Francis
Ephor #4

Maurizio Terrazzano
Sentry #2
Marcel Jeannin
Free Greek-Baker
Tyrone Benskin
Persian Emissary
Marie-Julie Rivest
Leonidas' Mother
Danielle Hubbard
Dancer
Kwasi Songui
Persian

John Dunn-Hill
Councilman

Greg Kramer
Ephor #1
Eli Snyder
Leonidas at 7 / 8 yrs
Gary A. Hecker
Ubermortal Vocals (voice)

Kelly Craig
Oracle Girl

Tim Connolly
Leonidas' Father
Sebastian St. Germain
Fighting Boy (12 yrs old)
Dennis St John
Spartan Baby Inspector
Robert Paradis
Spartan General
Alexandra Beaton
Burned Village Child
Frédéric Smith
Statesman
Robin Wilcock
Free Greek-Sculptor
David Schaap
Potter
Maéva Nadon
Girl at Market
Stéphanie Aubry
Slave Girl
Loucas Minchillo
Spartan Baby A
Nicholas Minchillo
Spartan Baby B
Tom Rack
Ephor #3
Jere Gillis
Spartan General

Jeremy Thibodeau
Spartan Boy
Leon Laderach
Executioner
Dave Lapommeray
Persian General Slaughtered
Vervi Mauricio
Armless Concubine
Charles Papasoff
Blacksmith

Isabelle Champeau
Mother at Market
Veronique-Natale Szalankiewicz
Daughter at Market (3 / 5 years old)
David Thibodeau
Boy #1 at Market

Stewart Myiow
Persian General
Andreanne Ross
Concubine #1
Sara Giacalone
Concubine #2
Ariadne Bourbonnière
Kissing Concubine #1
Isabelle Fournel
Kissing Concubine #2
Sandrine Merette-Attiow
Contortionist
Ruan Vibegaard
Dancer
Genevieve Guilbault
Slave Girl
Bonnie Mak
Slave Girl
Caroline Aspirot
Slave Girl
Gina Gagnon
Slave Girl
Tania Trudell
Slave Girl
Stephania Gambaroff
Slave Girl
Chanelle Lamothe
Slave Girl
Sabrina-Jasmine Guilbault
Slave Girl
Manny Cortez Tuazon
Transsexual (Asian) #1
Atif Y. Siddiqi
Transsexual (Arabian) #3
Camille Rizkallah
Giant with Arrow
Trudi Hanley
Long Neck Woman
Neon Cobran
Litter Bearer / Slave
Devin Delorme
Market boy #2
Duy Vo Van
Persian (uncredited)
Agnieshka Wnorowska
Market woman (uncredited)
Elisabeth Etienne
Dancer
Esta película pertenece a una saga
Saga 300
2007 - 2014
2 películas conforman esta saga.
Serie de películas de acción basadas en las saga de cómics con el mismo nombre de Frank Miller.
Imágenes y fondos de 300
¿Merece la pena ver 300 ?
Nuestros usuarios con mejor prestigio opinan que:
SI
Críticas destacadas :
Crítica de

JoseSG
hace 12 meses
7
Adaptación de la novela gráfica del mismo nombre de Frank Miller.

Nos cuenta la defensa de las Termópilas por parte de los 300 espartanos del rey Leónidas contras las tropas Persas.

Si bien es cierto que se toma muchísimas licencias históricas, visualmente es una maravilla.
Valoraciones en tu crítica:
Crítica de

Sergiojamon
hace 3 meses
7.5
Zack Snyder siempre ha estado en contra de las lámparas.

300 nos cuenta la historia de Leónidas y 300 soldados que van a luchar contra el ejército Jerjes, que es inmensamente más grande que el de los Espartanos.

Posiblemente, esta sea la película que envío a Zack Snyder el reconocimiento que a día de hoy tiene. Y no es para menos, ya que se ha destacado por tener una visión del cine muy distinta a los demás. Y aunque todo sabemos que desde siempre ha tenido problemas con la luz, en esta película queda perfecto, llevando a cada escena a ser como si fuera un documental.

Aunque también podemos llegar a pensar que está siendo un anuncio largo de Axe, pero eso es otra historia.

Visualmente es una maravilla. Cada escena de acción es impresionante y te deja temblando en tu asiento.

Probablemente uno de los puntos negativos que le puedo poner, sería la narrativa o ritmo de la historia. En el inicio de la cinta parece que nos van contando la trama muy rápidamente y no da tiempo de asimilar las circunstancias que rodean al personaje. Y en otros puntos en donde estamos más avanzados la trama parece ir más lento, por la usabilidad de la cámara lenta en escenas cotidianas.

En otros aspecto, podemos decir que los actores han sido bien escogidos en donde podemos destacar, aparte de a Leónidas a su esposa Gorgo que la interpreta Lena Headey (Juego de tronos) que ha conseguido hacerse un hueco en la interpretación gracias a sus personajes de los cuales ha sabido aprovecharlos bien.

Si queréis una película con un gran presupuesto de efectos y visualmente impactante, es vuestra película sin dudarlo.

Valoraciones en tu crítica:
Crítica de

irenerestre
hace 3 meses
10
Qué grande, diez años tardé en ver esta película y lo que me había perdido. El carácter sarcástico de Leónidas es un puntazo, visualmente es espectacular, la historia (por poco fiel a la realidad que pueda ser) me ha atrapado. No soy yo de películas bélicas, pero me ha encantado.
Recomendable.
- No os habéis dado cuenta? Hemos estado compartiendo nuestra cultura toda la mañana!
- Me ha dado un calambre luchando contra vuestro ejército, así que veo difícil lo de postrarme...
Puntazos, jajaja
Valoraciones en tu crítica:
Críticas recientes:
Crítica de

Feschnando
hace 1 mes
9
Qué ganas más tontas de ir al gym me han entrado, copón.
Valoraciones en tu crítica:
Crítica de

chicago8
hace 5 meses
7
El mejor paso de un cómic al cine
Visualmente impecable
Y entretiene de principio a fin
Tienes que verla si te gusta el cine de acción
Valoraciones en tu crítica:
Crítica de

Amp86
hace 8 meses
7.5
Enorme exceso de músculos, desvirtuación de la historia, caricaturización...
Yo lo que quisiera apuntar es que detrás de esa épica espartana, tras esos músculos y espadazos a cámara lenta hay diversión, hay una acción que engancha y atrae con momentos de verdadero lujo.

Valoraciones en tu crítica:
8.2

0

10

8.2

397
7.1
97%
3%
Información:
Estado:

Estrenada

Duración:

117 min

Título original:

300

Director:

Zack Snyder

Año:

2007

Estreno:

2007-03-07

Presupuesto:

65.000.000 $

Ingresos:

422.610.419 $

País producción:






Palabras clave (en inglés):




664 usuarios añadieron esta película a su biblioteca.
Últimos Usuarios que han recomendado esta película: (29)
Suprunaman
Spideyduar
caidadelha
JessEnterr
Sergiojamo
Imperius
BlackSwan
jorgedipra
Angela10
MrPenguin
JoseSG
Listas de películas con 300
TOP de películas con 300
Mejores películas de la historia PALOMITACAS
Filmografía de Zack Snyder
Los derechos de propiedad intelectual de las críticas corresponden a los usuarios que las han realizado y al portal Palomitacas. Si quieres o necesitas hacer uso de alguna crítica, deberás pedir permiso expreso a su autor o ponerte en contacto con nuestro servicio de soporte. Palomitacas.com no tiene ninguna relación con el director o productor de la película. El copyright del poster, carátula, trailer, fotogramas, banda sonora original (BSO), imáneges o fotografias de cada DVD, VOD, Blu-ray o VHS pertenecen a las correspondientes productoras y/o distribuidoras.
Galardon Desbloqueado
Guarda la fecha en la que viste esta película
Mi Opinión / Critica de 300
Puedes valorar del 1 al 5 y de manera opcional las sub-categorias que desees. Si tienes dudas sobre lo que supone darle un 5 a ciertas categorias, más abajo encontrarás información al respecto.
PAL9000 , predicción de tu valoración
PAL 9000 es la inteligencia artificial de Palomitacas.com, será capaz de ofrecerte una estimación de tu valoración en películas y series que todavía no hayas visto.
Puedes acceder a más características de PAL 9000 desde el menú:
Recomendador -> PAL9000.
* La estimación es un valor calculado por multiples factores, siendo el más importante tu historial de valoraciones. Cuantas más valoraciones hayas realizado y más valoraciones tenga la propia película, más acertado será el valor.
Puedes indicar en que lugar has visto esta película. De esta manera ayudarás a otros usuarios a no perder el tiempo buscandola entre toda la cantidad de servicios que existen a dia de hoy.
Tu selección será anónima y solo se mostrará en forma de voto a usuarios registrados.
¿Donde has visto esta película?
Usuarios han indicado que está disponible en:
Sin datos