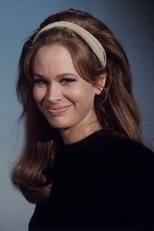 Karen Black
2013-08-08
Actriz
También conocida como:
カレン・ブラック
/
0 usuarios marcarón a Karen Black como favorita.
Biografía de Karen Black:
¿Quién es Karen Black?
Karen Blanche Black (née Ziegler; July 1, 1939 – August 8, 2013) was an American actress, screenwriter, singer, and songwriter. She rose to prominence for her work in various studio and independent films in the 1970s, frequently portraying eccentric and offbeat characters, and established herself as a figure of New Hollywood. Her career spanned over 50 years and includes nearly 200 credits in both independent and mainstream films. Black received numerous accolades throughout her career, including two Golden Globe Awards, as well as an Academy Award nomination for Best Supporting Actress.

A native of suburban Chicago, Black studied theater at Northwestern University before dropping out and relocating to New York City. She performed on Broadway in 1965 before making her major film debut in Francis Ford Coppola's You're a Big Boy Now (1966). Black relocated to California and was cast as an acid-tripping prostitute in Dennis Hopper's road film Easy Rider (1969). That led to a lead in the drama Five Easy Pieces (1970), in which she played a hopeless beautician, for which she was nominated for an Academy Award and won a Golden Globe for Best Supporting Actress. Black made her first major commercial picture with the disaster film Airport 1975 (1974), and her subsequent appearance as Myrtle Wilson in The Great Gatsby (1974) won her a second Golden Globe for Best Supporting Actress.

Black starred as a glamorous country singer in Robert Altman's ensemble musical drama Nashville (1975), also writing and performing two songs for the soundtrack, which won a Grammy Award for Best Score Soundtrack. Her portrayal of an aspiring actress in John Schlesinger's drama The Day of the Locust (also 1975) earned her a third Golden Globe nomination, this time for Best Actress. She subsequently took on four roles in Dan Curtis' anthology horror film Trilogy of Terror (1975), followed by Curtis's supernatural horror feature, Burnt Offerings (1976). The same year, she starred as a con artist in Alfred Hitchcock's final film, Family Plot.

In 1982, Black starred as a trans woman in the Robert Altman-directed Broadway debut of Come Back to the Five and Dime, Jimmy Dean, Jimmy Dean, a role she also reprised in Altman's subsequent film adaptation. She next starred in the comedy Can She Bake a Cherry Pie? (1983), followed by Tobe Hooper's remake of Invaders from Mars (1986). For much of the late 1980s and 1990s, Black starred in a variety of arthouse, independent, and horror films, as well as writing her own screenplays. She had a leading role as a villainous mother in Rob Zombie's House of 1000 Corpses (2003), which cemented her status as a cult horror icon. She continued to star in low-profile films throughout the early 2000s, as well as working as a playwright before her death from ampullary cancer in 2013.

Description above from the Wikipedia article Karen Black, licensed under CC-BY-SA, full list of contributors on Wikipedia. ​

Fecha nacimiento:

1939-07-01

Fecha fallecimiento:

2013-08-08

También conocida como:

カレン・ブラック

/
Trabajos destacados
Películas de Karen Black como actriz
En orden cronológico
Series de Karen Black como actriz
En orden cronológico
Películas dirigidas por Karen Black
Sin información
Películas producidas por Karen Black
Sin información
Series dirigidas por Karen Black
Sin información
Karen Black formó parte en la producción de las siguientes series
Sin información
Compañeros de trabajo recientes de Karen Black
Los derechos de propiedad intelectual de las críticas corresponden a los usuarios que las han realizado y al portal Palomitacas. Si quieres o necesitas hacer uso de alguna crítica, deberás pedir permiso expreso a su autor o ponerte en contacto con nuestro servicio de soporte. Palomitacas.com no tiene ninguna relación con el director o productor de las películas / series mostradas. La información es suministrada por TMDB. El copyright del poster, carátula, trailer, fotogramas, banda sonora original (BSO), logotipo, imáneges, retratos o fotografias de cada DVD, VOD, Blu-ray, VHS , persona o Network pertenecen a las correspondientes productoras y/o distribuidoras.