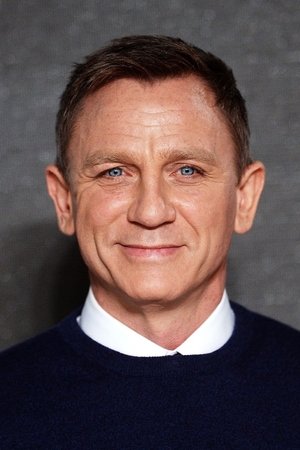 También conocido como:
다니엘 크레이그
/
Деніел Крейг
/
Дэниел Крэйг
/
Дэниэл Крэйг
/
دانيال كريغ
/
대니얼 크레이그
/
ダニエル・クレイグ
/
แดเนียล เคร็ก
/
丹尼尔·克雷格
/
Ντάνιελ Κρεγκ
/
0 usuarios marcarón a Daniel Craig como favorito.
Biografía de Daniel Craig:
¿Quién es Daniel Craig?
Daniel Wroughton Craig (born 2 March 1968) is a British actor. He gained international fame playing the secret agent James Bond in the eponymous film series, beginning with Casino Royale (2006) and in four further instalments, up to No Time to Die (2021).

After training at the National Youth Theatre in London and graduating from the Guildhall School of Music and Drama in 1991, Craig began his career on stage. He made his film debut in the drama The Power of One (1992) and the family film A Kid in King Arthur's Court (1995), with his breakthrough role coming in the drama serial Our Friends in the North (1996). He gained roles in the period film Elizabeth (1998), the action film Lara Croft: Tomb Raider (2001), before appearing in the crime thrillers Road to Perdition (2002), Layer Cake (2004), as well as the historical drama film Munich (2005).

Casino Royale, a reboot of the Bond franchise released in November 2006, was favourably received by critics and earned Craig a nomination for the BAFTA Award for Best Actor in a Leading Role. His non-Bond appearances since then include roles in fantasy film The Golden Compass (2007), the drama Defiance (2008), the science fiction Western Cowboys & Aliens (2011), the mystery thriller The Girl with the Dragon Tattoo (2011), the heist film Logan Lucky (2017). For his performance as Detective Benoit Blanc in the comedy mystery films Knives Out (2019), and Glass Onion (2022), he received two Golden Globe Award nominations.

Fecha nacimiento:

1968-03-02

También conocido como:

다니엘 크레이그

/

Деніел Крейг

/

Дэниел Крэйг

/

Дэниэл Крэйг

/

دانيال كريغ

/

대니얼 크레이그

/

ダニエル・クレイグ

/

แดเนียล เคร็ก

/

丹尼尔·克雷格

/

Ντάνιελ Κρεγκ

/
Fotos de Daniel Craig
Trabajos destacados
Películas de Daniel Craig como actor
En orden cronológico
Series de Daniel Craig como actor
En orden cronológico
Películas dirigidas por Daniel Craig
Sin información
Películas producidas por Daniel Craig
En orden cronológico
Series dirigidas por Daniel Craig
Sin información
Daniel Craig formó parte en la producción de las siguientes series
Sin información
Compañeros de trabajo recientes de Daniel Craig
Los derechos de propiedad intelectual de las críticas corresponden a los usuarios que las han realizado y al portal Palomitacas. Si quieres o necesitas hacer uso de alguna crítica, deberás pedir permiso expreso a su autor o ponerte en contacto con nuestro servicio de soporte. Palomitacas.com no tiene ninguna relación con el director o productor de las películas / series mostradas. La información es suministrada por TMDB. El copyright del poster, carátula, trailer, fotogramas, banda sonora original (BSO), logotipo, imáneges, retratos o fotografias de cada DVD, VOD, Blu-ray, VHS , persona o Network pertenecen a las correspondientes productoras y/o distribuidoras.