Temporada 1
2 Good 2 Be True
Episodios de la primera temporada de 2 Good 2 Be True
Valoración temporada:
3.0
Necesitarás aproximadamente 67 horas para ver toda la temporada.
Logueate para poder valorar esta temporada
Sinópsis Temporada:
Car mechanic Eloy makes a terrible first impression on Ali, who works for a real estate magnate. But both of them are hiding their true personas.
Cómo ver esta temporada
Estrellas invitadas esta temporada

Jenny Miller
Tara Inocencio

James Graham
Young Elorde Borja

Bodjie Pascua
Bart / Bartolome Rosales

Rhed Bustamante
Young Allison Fajardo

Andre Tiangco
Atty. Ortanez

Mickey Ferriols
Miriam Borja / Sofia Agcaoili / Hanna

Ces Quesada
Allison Fajardo Grandmother

Olive Isidro
Dr. Liza Mendoza
Reparto principal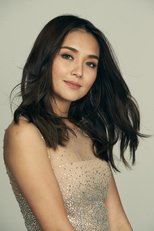 Kathryn Bernardo
Ali / Alisson Fajardo

Daniel Padilla
Eloy / Elorde Borja

Ronaldo Valdez
Lolo Hugo / Sebastian Agcaoili

Gloria Diaz
Helena Agcaoili

Gelli De Belen
Margie Fajardo

Cris Villanueva
Captain Rafael Rosales

Bianca de Vera
Pat / Patricia Fajardo

Romnick Sarmenta
Fred / Frederico Borja
Crear foro
Los derechos de propiedad intelectual de las críticas corresponden a los usuarios que las han realizado y al portal Palomitacas. Si quieres o necesitas hacer uso de alguna crítica, deberás pedir permiso expreso a su autor o ponerte en contacto con nuestro servicio de soporte. Palomitacas.com no tiene ninguna relación con el director o productor de la serie. El copyright del poster, carátula, trailer, fotogramas, banda sonora original (BSO), logotipo, imáneges o fotografias de cada DVD, VOD, Blu-ray, VHS o Network pertenecen a las correspondientes productoras y/o distribuidoras.
Mi Opinión / Critica de la Temporada 1 de 2 Good 2 Be True
Información
¿Donde puedo ver esta serie?
Para ver desde que servicios/webs está disponible esta serie necesitas registrarte.
Cuando accedas con tu cuenta, podrás ver desde que lugares esta disponible esta serie. ( Siempre y cuando algun usuario lo haya indicado. )
¿Y no pudo ver desde aquí el capítulo directamente?
No.
Desde palomitacas.com no podrás reprodrucir los capítulos directamente pero si podrás ver desde que lugares está disponible cada serie.
Palomitacas.com es una red social para seriéfilos y cinéfilos que te permite gestionar y mantener organizado todo lo que vas viendo, descubrir nuevas series y películas, recomendaciones, sugerencias, estadísticas, perfiles, críticas, foros,...
No tenemos los derechos de emisión de ninguna de las series, desde donde verlas es una decisión de cada usuario. Netflix, HBO, Amazon prime,...o desde otras webs. Hay muchos servicios y webs disponibles que ofrecen todo el contenido, desde palomitacas.com facilitamos un listado de disponibilidad creado por los propios usuarios.