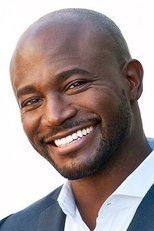 También conocido como:
Diggs
/
타이 딕스
/
0 usuarios marcarón a Taye Diggs como favorito.
Biografía de Taye Diggs:
¿Quién es Taye Diggs?
Taye Diggs (born Scott Leo Diggs, Taye comes from the playful pronunciation of Scotty as "Scottay") is an American theatre, film and television actor. He is known for his roles in the Broadway musicals Rent and Hedwig and the Angry Inch; the TV series Private Practice (2007-2013), Murder in the First (2014-2016), and All American (2018-); and the films How Stella Got Her Groove Back (1998), The Wood, The Best Man (both 1999), Brown Sugar, Chicago (both 2002), Malibu's Most Wanted, Basic (both 2003), The Best Man (1999) and its sequel, The Best Man Holiday (2013), and Baggage Claim (2013).

He had a recurring role as Jackson Duper on Ally McBeal, Dean Levine-Wilkins on The Good Wife, Mike Boyce on Rosewood starring real life friend Morris Chestnut, and Councilman Angelo DuBois on Empire.

He starred in the lead role on the series Kevin Hill, and as Detective Brett Hopper on Day Break.

Fecha nacimiento:

1971-01-02

También conocido como:

Diggs

/

타이 딕스

/
Trabajos destacados
Películas de Taye Diggs como actor
En orden cronológico
Series de Taye Diggs como actor
En orden cronológico
Películas dirigidas por Taye Diggs
Sin información
Películas producidas por Taye Diggs
En orden cronológico
Series dirigidas por Taye Diggs
Sin información
Taye Diggs formó parte en la producción de las siguientes series
Sin información
Compañeros de trabajo recientes de Taye Diggs
Los derechos de propiedad intelectual de las críticas corresponden a los usuarios que las han realizado y al portal Palomitacas. Si quieres o necesitas hacer uso de alguna crítica, deberás pedir permiso expreso a su autor o ponerte en contacto con nuestro servicio de soporte. Palomitacas.com no tiene ninguna relación con el director o productor de las películas / series mostradas. La información es suministrada por TMDB. El copyright del poster, carátula, trailer, fotogramas, banda sonora original (BSO), logotipo, imáneges, retratos o fotografias de cada DVD, VOD, Blu-ray, VHS , persona o Network pertenecen a las correspondientes productoras y/o distribuidoras.