Temporada 1
Police University
Episodios de la primera temporada de Police University
Valoración temporada:
1.1
Necesitarás aproximadamente 17 horas para ver toda la temporada.
Sinópsis Temporada:
Hacking was the only way out of Kang Sun Ho's miserable life ever since his parents passed away from an accident when he was just ten. He eventually puts his genius hacking skills into practice in an attempt to steal illegal gambling funds to pay for his adoptive father's cancer surgery. One day, Sun Ho bumps into a charismatic judo girl, Oh Kang Hee, and falls in love at first sight. Just to be with her, he sets a goal to get an acceptance letter from the same university as Kang Hee's and eventually gets accepted. However, he does not expect a familiar face from his previous misdemeanor, Yoo Dong Man, to greet him as his professor. At first, he's not very pleased to see him again, but he gradually grows fond of Dong Man, the man of justice, to the point where he respects Dong Man's philanthropic and brave nature as they continue to bicker with one another. Just like that, what started as love at first sight becomes Sun Ho's life goal, a police officer.
Cómo ver esta temporada
Estrellas invitadas esta temporada

Song Yeong-jae
Landlord
Reparto principal

Cha Tae-hyun
Yoo Dong-man

Jung Jin-young
Kang Seon-ho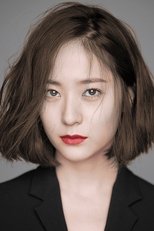 Krystal Jung
Oh Kang-hee

Hong Soo-hyun
Choi Hee-soo

Lee Jong-hyuk
Kwon Hyuk-pil

Seo Ye-hwa
Baek Hee

Choo Young-woo
Park Min Kyu

Yoo Young-jae
Jo Joon-wook
Usuarios que han estado viendo esta temporada recientemente
Foro de Police University


(1 hilo(s) )
Los derechos de propiedad intelectual de las críticas corresponden a los usuarios que las han realizado y al portal Palomitacas. Si quieres o necesitas hacer uso de alguna crítica, deberás pedir permiso expreso a su autor o ponerte en contacto con nuestro servicio de soporte. Palomitacas.com no tiene ninguna relación con el director o productor de la serie. El copyright del poster, carátula, trailer, fotogramas, banda sonora original (BSO), logotipo, imáneges o fotografias de cada DVD, VOD, Blu-ray, VHS o Network pertenecen a las correspondientes productoras y/o distribuidoras.