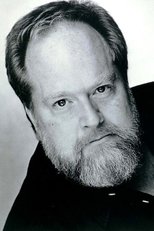 William Hootkins
2005-10-23
Actor
También conocido como:
Bill Hootkins
/
William Michael Hootkins
/
0 usuarios marcarón a William Hootkins como favorito.
Biografía de William Hootkins:
¿Quién es William Hootkins?
William Michael Hootkins was born on July 5, 1948, in Dallas, Texas. He moved to London, England in the early '70s and lived there up until 2002. Hootkins was an actor at Theatre Intime while attending Princeton University where he learned how to speak fluent Mandarin Chinese. He also trained as an actor at the London Academy of Music and Dramatic Arts, and attended St. Marks, where he was in the same theater group as Tommy Lee Jones. The imposingly bulky and heavyset Hootkins first began acting in films and TV shows alike in the mid '70s. His more noteworthy parts include the first of the Rebel fighter pilots to get killed while attacking the Death Star in "Star Wars", scientist Topol's bumbling oaf assistant in "Flash Gordon", Major Eaton, sent by the US government in "Raiders of the Lost Ark", one of Rod Steiger's demented sons in "American Gothic", a corrupt police lieutenant in "Batman", a disgusting sleazy voyeur in "Hardware", a coarse South African police chief in "Dust Devil", the mysterious and duplicitous Mr. X in "Hear My Song", a haughty corporate executive in "Death Machine", Santa Claus in "Like Father, Like Santa", and an opera-singing vampire in "The Breed". Moreover, Hootkins had small parts in two "Pink Panther" pictures: he's a taxi driver in both "The Trail of the Pink Panther" and "Curse of the Pink Panther".

Among the TV shows he did guest spots on are "Yanks Go Home", "Agony", "Play for Today", "Tales of the Unexpected", "The Life and Times of David Lloyd George", "Brett Maverick", "Cagney and Lacey", "Taxi", "Hammer House of Mystery and Suspense", "Poirot", "Chancer", "The Young Indiana Jones Chronicles", "The Tomorrow People", "The West Wing", and "Absolute Power". Hootkins received many accolades for his outstanding performance as Sir Alfred Hitchcock in Terry Johnson's hit play "Hitchcock Blonde". In addition to his substantial film and TV credits, Hootkins was also a popular and prolific voice artist who recorded dozens of plays for BBC Radio Drama; he supplied the voices for such iconic individuals as Orson Welles, J. Edgar Hoover, and Winston Churchill. William Hootkins died of pancreatic cancer on October 23, 2005. IMDb Mini Biography

Fecha nacimiento:

1948-07-05

Fecha fallecimiento:

2005-10-23

También conocido como:

Bill Hootkins

/

William Michael Hootkins

/
Fotos de William Hootkins
Trabajos destacados
Películas de William Hootkins como actor
En orden cronológico
Series de William Hootkins como actor
En orden cronológico
Películas dirigidas por William Hootkins
Sin información
Películas producidas por William Hootkins
Sin información
Series dirigidas por William Hootkins
Sin información
William Hootkins formó parte en la producción de las siguientes series
Sin información
Compañeros de trabajo recientes de William Hootkins
Los derechos de propiedad intelectual de las críticas corresponden a los usuarios que las han realizado y al portal Palomitacas. Si quieres o necesitas hacer uso de alguna crítica, deberás pedir permiso expreso a su autor o ponerte en contacto con nuestro servicio de soporte. Palomitacas.com no tiene ninguna relación con el director o productor de las películas / series mostradas. La información es suministrada por TMDB. El copyright del poster, carátula, trailer, fotogramas, banda sonora original (BSO), logotipo, imáneges, retratos o fotografias de cada DVD, VOD, Blu-ray, VHS , persona o Network pertenecen a las correspondientes productoras y/o distribuidoras.